Metallica releases 'sound-enhanced' whiskey pack
Members of heavy metal rock band Metallica have released a sonically-enhanced, limited edition whiskey pack.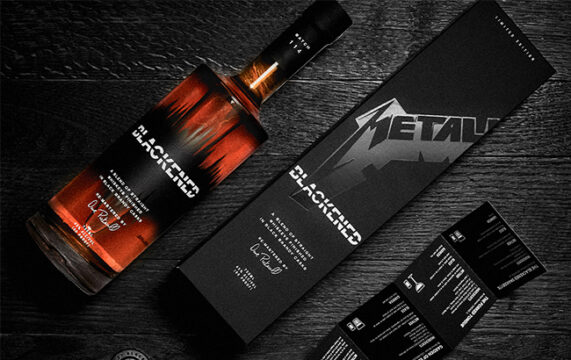 In 2018, members of Metallica partnered with Whistlepig master distiller Dave Pickerell to
launch a whiskey, which had received musical treatment
. Barrels of the whiskey, Blackened, are fed with sound waves to enhance and finish the spirit. Distiller
Rob Dietrich
explained the vibrations lead to more interaction between the spirit and the wood, thereby adding deeper flavours and colours. The partnership's latest batch of Blackened whiskey, Batch 114, was pounded with low-hertz frequencies from the band's 1991
The Black Album
. Dietrich said: "
The Black Album
was one of the first albums that I truly took up as a personal anthem. "It carried me and my buddies through some intense times during our military deployments in the early '90s and beyond." The whiskey is a mix of straight Bourbons and ryes, aged for a minimum of eight years in black brandy casks. The spirit's finishing process is said to enhance 'the molecular interaction of the whiskey'. Dietrich added: "Just like the record, The Black Album Whiskey Pack's Batch 114 has been masterfully crafted, and is heavy-hitting and well-balanced." "Now it's time to sip a little whiskey, throw this record on the turntable, and crank it until the windows blow out." The expression is said to give notes of 'buttery caramel' and oak on first sip, followed by an earthy chipotle, walnut and maple finish. The inspiration for the musical production process was drawn from
late master distiller Dave Pickerell's
experience of working in a lab, where one of the world's largest church organs would reverberate through the walls. Pickerell then used these vibrations to manipulate the taste of whiskey. "The whole building would tremble, it would really shake your guts," he said. The Black Album whiskey pack is available for US$50, and includes a 750ml bottle of Batch 114, a collectible whiskey coin and a Snakebyte Cocktail Booklet, named after Metallica member James Hetfield's signature Snakebyte guitar. The limited edition pack can be purchased from blackenedwhiskey.com.
---