How spirits brands are marking the Platinum Jubilee
As HRH Queen Elizabeth II's Platinum Jubilee is a milestone none of us will ever experience again in our lifetime, spirits brands worldwide are determined to make their mark on the festivities.
As if an extraordinary 70-year reign on the throne isn't enough reason to celebrate Her Majesty, her penchant for a gin cocktail or her tradition of drinking a glass of Champagne daily certainly is. With the UK's extended Bank Holiday weekend just around the corner, we've looked to how spirits brands are marking this monumental milestone – and it's not with excessive amounts of Union Jack bunting. Scroll down to discover a number of celebratory bottlings to toast the occasion.
---
Bruichladdich 30YO Jubilee bottling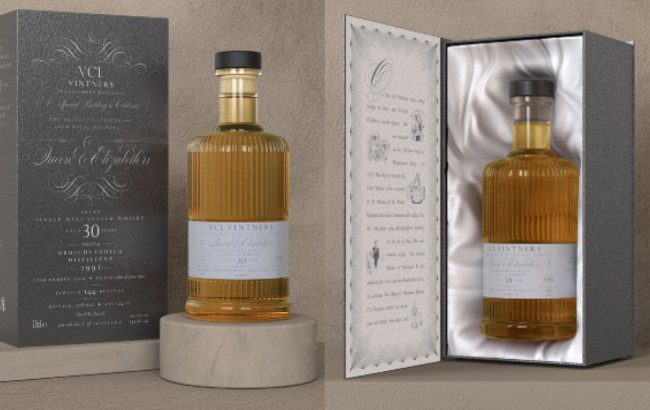 Whisky cask merchants VCL Vintners have produced a limited run of single malt Scotch whisky to commemorate the Queen's 70-year reign. Distilled on the island of Islay, the whisky was produced for the sole purpose of occasion. The distillery filled cask number 2,504 in 1991, and now after watching both the Golden and Diamond Jubilees pass it by, VCL Vintners bottled the commemorative cask of Bruichladdich whisky at 44.1% ABV in April. The liquid is un-peated, floral, complex and created using the original Victorian machinery, paying homage to both past and present by bringing together traditional distilling methods 'into a world of present significance'. The limited run of 144 700ml bottles is priced at RRP £566 (US$700) on VCL Vintners' website.
---
Shakespeare Distillery Jubilee Gin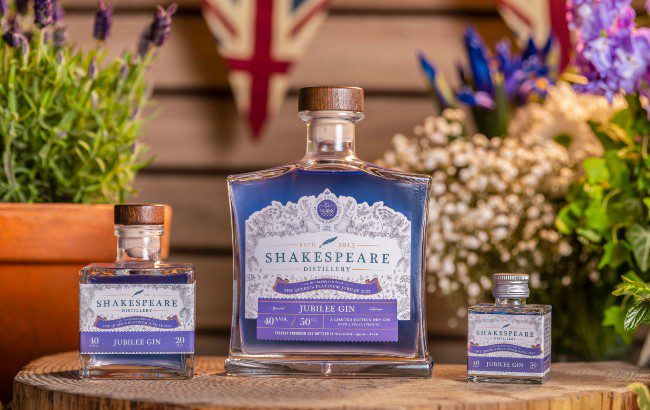 Shakespeare Distillery has launched a new Jubilee Gin to coincide with the celebrations around the Queen's Platinum Jubilee. The 40% ABV gin takes inspiration from a summer garden, and the Stratford-Upon-Avon-based distiller has combined hibiscus, lemon verbena and thyme with the more traditional gin botanicals of juniper, coriander seed, orris root and lemon peel. To make it that extra bit special, the producer has also steeped some butterfly pea flowers into the gin to give it a blue hue, resulting in a 'delicate and well-balanced' gin. Shakespeare Distillery suggests serving the gin with either Fever-tree Elderflower Tonic or Fever-tree Light Indian tonic water and a slice of lemon. The Jubilee Gin is available in three bottle options and retails at £34 (US$42.46) for a 500ml bottle, £17.50 (US$21.85) for a 200ml bottle and £6.50 (US$8.12) for a 50ml bottle. These can be purchased online or at the distillery shop.
---
Absolut Elyx limited edition copper crown cup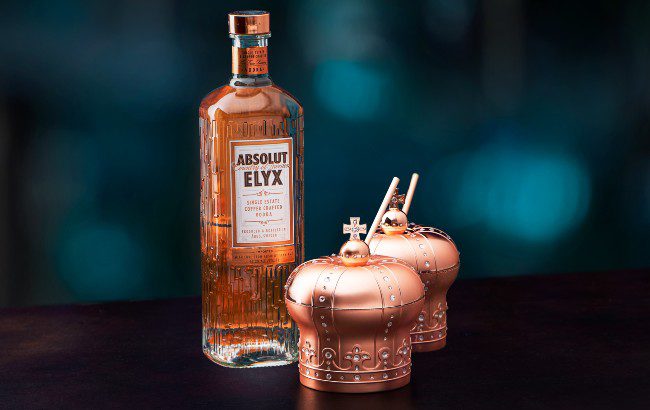 Heavy is the head that wears the crown, but what about the head that drinks from it? To celebrate this once-in-a-lifetime occasion, luxury Swedish vodka brand Absolut Elyx has partnered with the Nomad hotel in London to create a limited edition copper crown cup. The limited edition crown cup, a replica of the one worn by Queen Elizabeth II complete with sparkling jewels and handcrafted detail, can now be purchased to use at home, or enjoyed as a more purse-friendly cocktail at The Nomad's subterranean bar, Common Decency. The Common Decency's Crown Cup is one of the bar's signature serves and was created by its Bar Director, Leo Robitschek, made with Absolut Elyx, enriched cranberry, lime and passion fruit. The Absolut Elyx copper crown cup is available to purchase from the Absolut Elyx online boutique RRP £189 (US$236)
---
Cotswold Distillery limited edition Platinum Jubilee gin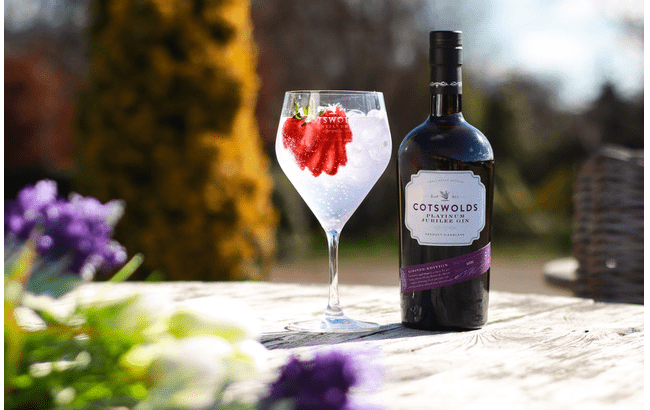 With fresh citrus notes of grapefruit, crushed juniper and pink pepper on the nose, and a hit of jammy raspberry and fresh strawberry with a hint of vanilla on the palate, it's easy to tell that the limited edition Platinum Jubilee gin by the Cotswold Distillery was inspired by classic British summer desserts. Presented in a dark glass bottle with an eye-catching regal purple and silver label, the Cotswolds Distillery wanted to make a gin with all the depth of flavour and complexity expected of a Cotswolds Distillery gin, but with a delicious summertime twist, creating the perfect combination between classic and contemporary to mark this very special event. Mission accomplished.
The Cotswolds Distillery Platinum Jubilee Gin clocks in at 46% ABV. It is available to purchase from Majestic Wine and the Cotswolds Distillery for RRP £34.95 (US$43.65).
---
Silent Pool bespoke Platinum edition gin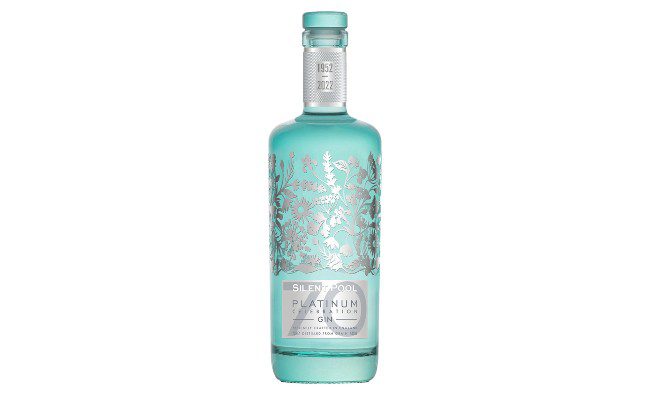 Silent Pool has, for the first time, ditched its iconic copper pattern for this limited edition Jubilee bottling, redesigning its packaging to denote an intricate platinum design to honour our longest serving monarch. Those who get their hands on one of the 6,500 bottles will find the liquid – which has been gently infused with kumquat and Japanese Oolong tea while also blended with a small amount of Asian pear juice and peach – to be smooth on the palate, filled with classic juniper, creamy tea and spiced bright peppery notes, all of which is underpinned with a hint of smokiness. The gin is available to order at silentpooldistillers.com for £45 (US$56.20).
---
Foxdenton Jubilee Summer Pudding Gin Liqueur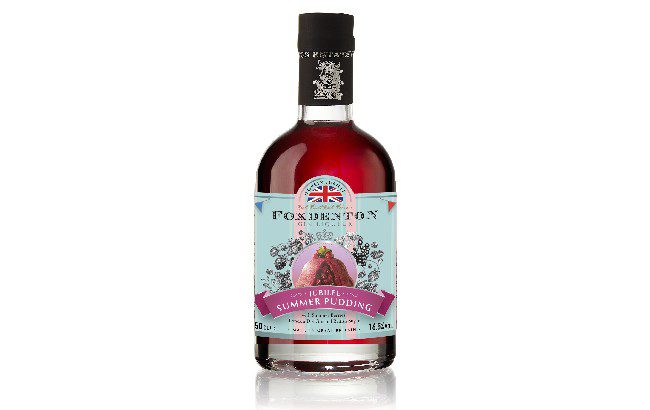 It doesn't get much more British than a Bank Holiday weekend enjoying a classic British dessert, unless, of course, that dessert comes in the form of a gin liqueur. Inspired by the classic English pudding, Foxdenton has compounded the natural bounty of the British countryside including raspberries, strawberries, redcurrants and blackcurrants into this indulgent celebration of all things British. Try it with a splash of classic lemonade and a squeeze of fresh lime for something truly patriotic. Jubilee Summer Pudding Gin Liqueur by Foxdenton is available at foxdentonestate.co.uk for £20 (US$24.98) per bottle.
---
Whitley Neill limited edition bottle design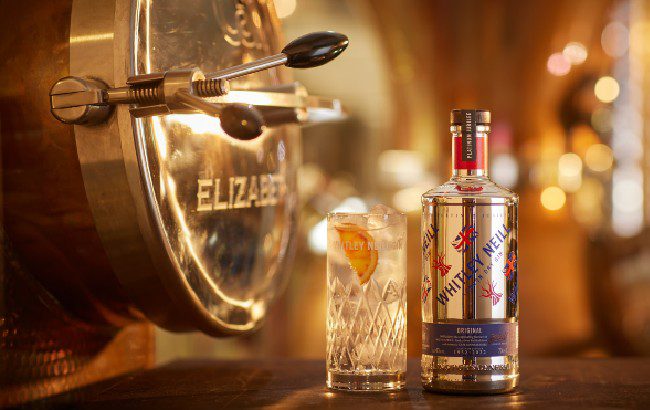 Whitley Neill has given its Original London Dry Gin a Jubilee makeover to mark the long weekend celebrations. The popular gin has, like all other gins in the Whitley Neil family, been distilled at the City of London Distillery in a 500-litre pot still called 'Elizabeth', named so to mark the Queen's Diamond Jubilee back in 2012. As another still named after our Queen might have been thought of as excessive, the Halewood Artisanal Spirits-owned brand has instead given its bottle a glow-up in Her Majesty's honour. Continuing on the theme of commemoration, the new look features a striking platinum finish combined with a red, white and blue colour scheme. Who needs a Union Jack flag when you can hold a bottle of gin out of your window? The commemorative bottling is available from The Drop Store for £26 (US$32.47)
---
The English Whisky Co Jubilee bottling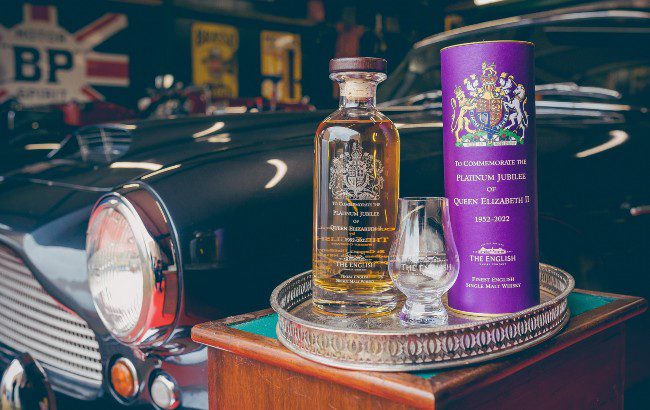 To mark this extraordinary milestone, The English Whisky Co released a single malt whisky to join its Royal range of whiskies, which are only bottled to mark such special occasions as royal births, marriages, coronations, and jubilees. As such, each collection is always limited edition and highly sought after – and this launch was no exception. The whisky itself is a single malt that has been sleeping in the finest oak casks in the maturation warehouses at the distillery. The bottle carries the Queen's Royal Arms by permission of Lord Chamberlain and the packaging is presented with the same coat of arms on a purple background, which has been approved for use for this event only. The bottle launched on 21 April, and with it being such a popular collector's item, has already sold out. Expect to find it on resale sites at highly inflated prices.
---